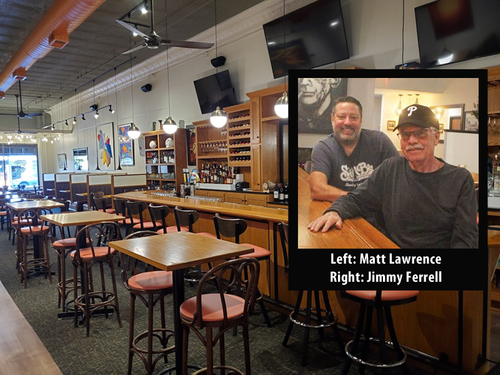 Jim Ferrell & Chef Matt Lawrence set the stage for 'the best Sam B's' yet
Chef Matt Lawrence and Jim Ferrell, owner of Sam B's, inside the newly renovated place. The portrait of Samuel Beckett, the Irish playwright and Sam B's namesake is at the end of the bar.
Sitting in the new Sam B's at 146 N. Main Street, Jim Ferrell recalls that he and his wife, Kathy, have opened a new place before, adding it doesn't get any easier.
Ferrell has been on the Bowling Green food scene for going on 50 years starting in a literal hole on State Street in 1972 where he served "Sam B's sandwich of the absurd."
Now he's back in the space where he opened his first restaurant, Sam B's. And for all the delays and hassles of getting this new operation open, he's pleased he's back.
"I'm glad we did it," he said. "I have no regrets. It cost twice as much as I thought and it took twice as long as I thought. But it's a good asset. It's a good piece of real estate. It's a good location. It's got history."
Back at the turn of the 20th century it was a pool hall, and then about the time he arrived in Bowling Green in 1968, it was a head shop, first Metamorphosis, then Crystal City.
In 1988, Sam B's, named for the Irish writer of theater of the absurd Sam Beckett, found its place on the Bowling Green culinary scene. In 2002, he moved the operation into another landmark, the former Kaufman's restaurant, and then opened Beckett's, a bar with pool tables in tribute to the building's early years. "Huge mistake," Ferrell said. Pool is anti-social.
After a few years he sold Beckett's to George Strata, who remade the bar restaurant into something of his own.
For all the success at the former Kaufman's, Ferrell said, "we never achieved the intimacy we had here in the nineties."
So in May, he and Strata switched spaces. With Strata returning to the former Kaufman's where many years before he worked, and Ferrell coming back to North Main Street.
Coming home again wasn't easy.
They tore out the interior, including rotting wood. Construction crews filled seven 30-yard dumpsters, in the renovation. He wrestled with new regulations. Hopes of opening in late summer melted away.
All this not just recreate the earlier Sam Bs, but to make it fresher, up to date. It retains the original aesthetic with art, including a large painting by Manny Enriquez on the south wall, and other pieces selected by Enriquez decorating the facing wall. And presiding at the end of the bar is a spruced up image of Samuel Beckett.